Welcome to Ed and Kathy's home on the world wide web.
On our web site you can find our photo galleries, some links to our favorite places, some information about our lives and our business, and a great story written by Kathy's Dad (Walt) describing some of the amazing things he has done with his life.
If you hate the slide show at the top, you can stop it at any time. See the little red 'Stop' button at the top? Click on it when you are tired or dizzy ;-) Click the green 'Go' button to start it again.
Feel free to send us some email if you want to comment, flame, suggest, insult, or otherwise let your feelings be known. Ed's Email Kathy's Email
---
Kathy won the "Flyaway" contest on RodneyAtkins.com!!
Ed and Kathy are flying to San Diego October 23 - 25, and will be seeing Rodney Atkins in concert, along with Lady Antebellum and The Lost Trailers.
Here's a link to the concert info
Here's a link describing the contest
Here's a link to a copy of Kathy's winning entry
We will post pictures when we get back from the contest!
---
The Weather in Maple Valley: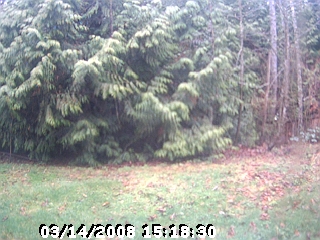 That's what our backyard says...
(by the way, if the picture is dark, either the camera is unplugged or it's nighttime... duh!)
(and by the way, I know it's a boring picture of our back yard, but until I figure out how to eliminate the darn reflection on the webcam in the window (doh!) it's the only shot I can get. Even with this shot you will occasionally see the reflection in the window.)
If you really want to see what it's like here, click here to see a whole bunch of Washington weathercams.
Here's what the Weather Channel says our forecast is today:
---

Check out our newest panorama!
We took our boat out on Lake Union on 4th of July for the fireworks show, and got a great panorama of the lake with all the boats on it. Unfortunately we couldn't stay for the show (anchor line was too short!) but this is a great set of pictures.
We also have a backyard panorama to see - check out our fabulous back yard!
These pictures are not for the slow modem types, unless you are prepared to wait. The files are at least 2 meg, so it might take a while to load. It is also an Apple Quicktime movie, so you may need to download the Apple Quicktime VR driver to see the movie.
But if you've got high bandwidth click here to see the panoramas!